This year's ART Conference had a running thread of leadership. Held at one of the world's leading bell foundries, the event witnessed the change of ART leadership, included Elva Ainsworth's session and workshop on leadership in ringing and celebrated some of the individuals and groups who are leading ringing towards a stronger future.
The ART Conference 2016 opened at John Taylor & Co Bell Foundry in Loughborough on Saturday 12 March. As over 100 attendees arrived – including many from local towers – various stalls and their exhibits were conveniently placed to view in the main bell foundry building, all manned by a noteworthy polite and helpful staff. We all started the day with a very interesting view of bell founding/hanging/maintenance as a work in progress, noting the obvious challenges of hosting a Conference around an active workshop. All was accompanied by the industrial smells of a 'well oiled' working building, but it was a rare opportunity for us all to gain insight into what exactly is inside a bell foundry.
Proceedings were opened with the AGM and business meeting in a newly refurbished room at the Foundry. Members approved the proposed Management Committee and Accounts as well as hearing a message from ART Members in Australia & New Zealand. The most exciting piece of news was new data from the Birmingham School of Bell Ringing reported accelerated progress of learners using the Learning the Ropes scheme compared to those using alternative routes. In addition to an 87% retention rate after learning handling, ringers who had started ringing with Learning the Ropes from the outset made much quicker progress at later Levels. The meeting culminated in a presentation to Pip Penney as exiting Chairman, to thank and acknowledge the dedication, effort and hard work she has invested into ART from inception to present and going forward.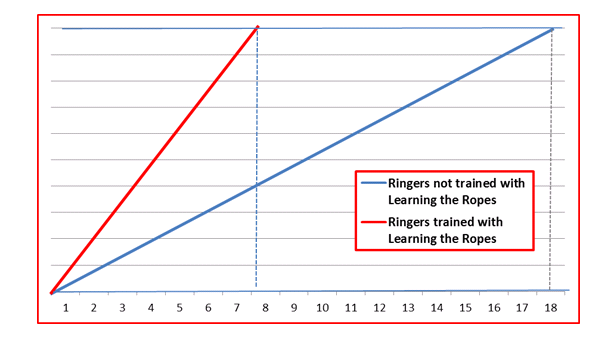 Following a short coffee break – ably served to us by Central Council President and Vice-President Chris Mew and Christopher O'Mahony – the late morning was occupied by excellent presentations from Elva Ainsworth and Jenny Wynn encompassing leadership skills and teaching theory, respectively. Elva evoked all our understanding and agreement when describing the difficulty of leading a group of bell ringers - if it feels how you are running the ringing is at its easiest then its probably the right way to be moving forward! Jenny lead an interactive session with very positive emphasis on the fact that your brain never gets too old to learn a new skill and reach the level within that skill that you wish to achieve.
Following a hard morning's work by the local helpers, 'Lunch in a bag' and even a glass of wine was provided. This enabled us to roam the foundry and even see the casting of two new bells. Seeing the casting process is always fascinating and we packed out the viewing gallery to see the expert craftsmen at work as David Potter talked us through the process.
Workshop style activities dominated the afternoon's proceedings: ranging from setting up a Listening Course, how to use ringing smartphone apps, experiences of training in Scotland to teaching with simulators. The pick and mix approach to workshop selection meant everyone listened to and discussed topics best for their needs, therefore gaining useful tips and advice to take away and apply in home towers.
The Conference day concluded with a personal message from Chris Mew and the annual 'Have Your Say' session led by new ART Chairman, Graham Nabb. Whilst the Conference room was transformed for the evening event, there was ringing on the Foundry bells.
We were joined by additional guests for the inaugural ART Awards Prize-Giving Ceremony, enthusiastically led by Stephanie Warboys and Head Judge Stephanie Pattenden. The Awards included for youth groups, school groups, innovation in recruitment, social media and technology in teaching, plus individual awards for Young Conductor of the Year and Outstanding Progress on the 'Learning the Ropes +' scheme. For each Award, Stephanie Pattenden ran through the judges' comments, congratulating the winners and others who had been selected as Highly Commended. The final awards were for those who had achieved Learning the Ropes Level 5. In addition to an overall winner, all those achieving this Level were to be invited to the first Learning the Ropes Masterclass for a focussed weekend of training with top-flight ringers. The winners were all delighted and the event was a fantastic celebration of the superb initiatives and individuals in ringing – long may it continue!
The weekend provided many thoughts about how to develop our own teaching approaches, as well as leadership and training at a wider level. As always, it was excellent to meet and socialise with enthusiastic and creative ringing teachers from across the country – it is hard to leave not feeling reenergised to help your ringers achieve their next Learning the Ropes Level!
Next year's ART Conference will be on 11th March 2017, hosted by the Winchester & Portsmouth Guild. Put the date in your diary!