ART Conference 2018 - Speakers

Simon Linford
Brumdingers: the story of Moseley's ringing group for kids
Simon Linford is active at most points on the ringing spectrum. A typical week could see him helping at the Birmingham School of Bell Ringing, ringing a peal of spliced at Birmingham Cathedral, going to a Guild practice, and teaching his daughter and other children at Brumdingers.
Simon has rung some stupidly complicated peals, most recently the record peal of 20,000 all the work Spliced Maximus in 38 methods. He does however love teaching at all levels, with a passion for helping people do things they didn't think they would be able to do.
Simon's ringing leadership was recognised with the ART Award for Inspiring Leadership in Ringing last year, for a long term commitment to leadership including the College Youths, the St Martin's Guild, and the Birmingham School of Bell Ringing.
Brumdingers is his latest venture, a weekly kids ringing group in Moseley, Birmingham.
---

Matt Bulbeck
Why I refuse to be called an 'Instructor': The differences between instructing, teaching and coaching
Matt is a professional outdoor sports coach, specialising in Stand Up Paddleboard Racing and in Windsurfing, and is also working towards accreditation at Module 1 of the ART Training Scheme.
Matt started ringing in 2012 and, upon being encouraged to give it a go by his mother, found out that he really enjoyed it, pushing forwards and training with the regional youth team for about a year before dropping out due to work commitments. Matt started teaching ringing by assisting the instructor at his local tower. He brought his professional coaching experience to ringing, allowing him to use techniques that he has developed during his six years working in the outdoor industry.
---

Colin Parker
Engaging with Young Ringers: Steps to Success
Colin learnt to ring aged 11 at Aston in Hertfordshire, ringing there until going to Southampton University. Having taught a number of new ringers before going to university, the skill became very useful once he was at Southampton in teaching a number of new ringers from scratch. It was during these 3 years at Southampton that his personal ringing progressed from Bob Minor up to Surprise Maximus.
After university Colin returned to Aston, serving as Tower Captain for a number of years. Following this he spent a number of years ringing in Reading, joining their 12-bell band and competing in a number of national 12 bell competitions. Colin subsequently joined the College Youths and nowadays, as well as ringing with the College Youths, rings at Tendring in Essex.
Colin spent 3 years serving on the Ringing World board and organised the Ringing World National Youth Contest during this time. He continues to share ideas with them on ways to engage with younger ringers. Colin is also a regular tutor on the Bradfield Ringing Course.
Outside of ringing, Colin is a keen cricketer - both playing and being a level 2 qualified coach.
---

Linda Garton and John Loveless
Developing Youth Teams
Linda and John come from strong local band ringing backgrounds. Linda learnt to ring in 1976 at Barton Seagrave, Northants, probably the best 5 bell band in the country at that time. John learnt at Bures, Suffolk, definitely not the best 8 bell band in the country, in 1965. They rang through university, Linda with the 'UL' in London, John cut his teeth in Birmingham. Both have held a number of offices in different societies over the years, including Master of the Society of Royal Cumberland Youths. Linda is currently Bedfordshire Association CC rep, a RW board member and also organises the Ringing World National Youth Contest. Linda and John have been active peal ringers for many years, as a combined peal total of 6000 or so attests.
They have rung at Campton, Bedfordshire since 2001, since when they have initiated and managed a project to replace a poor ring of 5 with a new, very ringable 8 and built a thriving local Sunday Service band (most of whom they have taught) who range in age from 7 to over 80.
Linda and John are also very involved in training more generally in Bedfordshire, which includes running regular teaching sessions at the recently completed Ronald J Sharp Ringing Centre at Biggleswade. Linda also runs the monthly Bedfordshire Young Ringers group, 4 times winners of the RWNYC which, of all her ringing achievements, is the one of which she is most proud.
---

Veronica Downing
Differences in Learners and Flexible Teaching Approaches
Veronica qualified as an Occupational Therapist in 1976 and gained a degree in Psychology with the Open University in 1991. She learned to ring at the age of 12 on what were then considered 'heavy and difficult' bells in Wellingborough, Northamptonshire.
Over the years she has taught children and adults to handle a bell and has found that her skills as an occupational therapist in understanding how people do things rather than what they do has been beneficial in helping her approach to teaching in the ringing chamber.
Veronica's ART Conference presentation looks at some of the variety of issues learners present to their instructors which require understanding and a different and maybe more flexible approach to teaching the skill of bell-handling.
---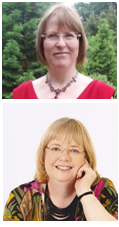 Caroline Stockmann and Kate Flavell
Positive PR: 'how to' guide for towers and societies
Caroline Stockmann has been PR Officer for the Central Council since May 2017. She rings in Kent, London and Surrey, having taken up the obsession 7 years ago. Her day job is Chief Exec of the Association of Corporate Treasurers, and she is media trained from a previous life.Caroline also speaks publicly and coaches on presentation and communication skills.
Kate is Chairman of the Central Council Public Relations Committee and has previously been Public Relations Officer and CCCBR President. She is currently Master of the Surrey Association and rings at Kingston upon Thames. In her work for the insurance industry she has been involved in PR as well as lobbying Government on its behalf.
---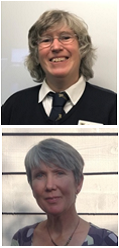 Vinni Sullivan & Ruth Suggett
Small is Beautiful: Tales from ART Teaching Centres and Hubs
Vinni learnt to ring aged 10 at a little village six, where she was taught to handle well, gained ropesight, but had little teaching about striking, methods other than Plain Bob Doubles or ringing in the wider world. That changed when she went to Birmingham University where she found there was far more to ringing than she had ever imagined - ringing quarters and her first peal, starting a trend with it being a ladies peal. Luck had taken her to Birmingham and luck then took her on to London for post-grad studies where her ringing accelerated resulting in her being elected a member of the Society of Royal Cumberland Youths in 1976.
Vinni got a teaching job and moved to Berkshire in 1979, later becoming Tower Captain at Hurst where she taught many new ringers. She moved from Hurst to Wargrave in 1998, but work pressure and learning to fly meant that ringing took a very back seat. Since retiring, Vinni is now teaching new ringers at Wargrave, goes to practices most nights and rings lots more quarter peals. Vinni also attended Module 1 and 2C of the ART Training Scheme in 2015 and is now a Full Member of ART, accredited in both Modules, and has recently undertaken to become a mentor for Module 1.
Ruth learnt to ring aged 12 in Essex but stopped when moving to university and did not ring again for another 18 years. She met a ringer in her local village who persuaded Ruth to start again – and she has been ringing again for about 15 years now. Ruth lives in a small village in North West Suffolk. She is Tower Captain of the local band, many of whom Ruth has taught to ring. Ruth says that ART has been a lifeline for her and her band.
---
Pip Penney
Why do Ringers keep Ringing?
Pip was recruited into ringing as part of the Ring in the Millennium project when the bells in her local tower were rehung. In 2002 she became a member of the Central Council Education Committee and developed the Ringing Practice Toolkit online teaching resources.
In 2004 she started a kids ringing group called Kids.Ring.Out which won the Founders Prize for the Encouragement of Young Ringers in 2006. As the young ringers got to their late teens they asked Pip to teach them to teach. She developed a teacher training program which developed into the ART Teaching Scheme. The teaching scheme was also accompanied by a five stage progressive scheme for new ringers called "Learning the Ropes".
At the inception of the Association of Ringing Teachers in 2012, Pip became the Chairman of the Association. She served on the Management Committee for many years before stepping down to focus on developing two new books for ART.
---
Marcus Booth
Insurance & Bell Ringing: What you need to know and Developing an Effective Risk Assessment
Marcus has worked in the insurance industry for 32 years, starting with the Phoenix in Bristol, morphing into Sun Alliance, Royal and Sun Alliance and RSA, before joining Ecclesiastical Insurance in 2005.
He started as a Property Pricing Analyst, specialising in Church and Heritage before becoming Underwriting Manager at Ansvar in Eastbourne for 2 years, then Schemes Underwriting Manager and since 2012 he has held the role of Church Underwriting Manager.
Whilst it's not a pre-requisite to be a ringer in this job, Marcus considers it certainly helps! He and colleagues meet with the CCCBR for annual liaison meetings and generally deal with ringing queries from customers. Marcus is responsible for a number of the bell-ringing articles and guidance on the Ecclesiastical website. He is a Fellow of the Chartered Insurance Institute and a Chartered Insurer.
---

Andrea Watkins
Volunteers, Safeguarding & the CofE
Andrea has over 11 years of experience as a qualified Social Worker having worked in local authority settings as a practitioner and manager.She then worked in policy and performance for a Children's Safeguarding Board and subsequently took up a post with the British Council as Regional Child Protection Manager supporting the safeguarding arrangements for the regions of the Middle East and Sub-Saharan Africa in addition to the strategic business units within the organization.
Andrea is currently interim National Training and Development Manager for the Church of England National Safeguarding Team.She brings a range of skills and experiences in management, training, policy development, capacity building, quality assurance and multi-agency collaboration at a local, regional, and international level.