Who's who
Roger Booth
Tony Croft
Steve Farmer
John Norris
Matthew Higby
Chris Hughes
---

Having learnt to ring in a Gloucestershire village, Roger has spent much of his career in London. Although not an IT expert, having led the restoration of five rings of bells Roger became acutely aware of the problems of training the local ringers needed to ring these bells on Sundays. Roger has used simulators for the past 25 years to help overcome the shortage of teachers, starting with an early Bagley 'Ringleader' simulator and graduating to PC's running Abel and Virtual Belfry.
A former member of the CCCBR's Ringing Centres Committee, Roger was involved in the roll out of simulators to establish new Ringing Centres. Roger has been closely involved with the Association of Ringing Teachers since its inception, and currently serves as a member of the Management Committee.
Roger has worked with various software authors and hardware suppliers to produce an updated ART publication, Teaching with Simulators, covering the latest advances in the technology, to be published Spring 2018. He is also working with ART to roll out simulator awareness workshops which can be held by Guilds and Associations to update their members on the latest software and help them make better use of the many simulator installations throughout the country and worldwide.

Tony has been ringing for more than 30 years and has been an ART Member since 2013. He has recently been involved in mentoring and assessing for ART. He was a senior IT manager for a gloabal pharmaceutical complany and is now retired.
During his ART M1 and M2 training he encountered the use of simulators at a couple of towers and his local ringing centre in Oadby, Leicestershire. These set him thinking. He was interested in putting a simulator into Hathern tower particularly to teach bell handling to learners at LtR levels 1 and 2, BUT having seen the "rats nest" of wiring in the towers he visited and coming from an IT and electronics background he thought there MUST be a better way. From this, Belfree was born and the prospect of "pop-up" simulators has become a reality.
He has installed a full (8-bell) Belfree set of sensors and footswitch used primarily for teaching learners and run a Simulator Awarness Workshop plus other method teaching and workshops for ringers at his home tower of Hathern where he has been Tower Captain for the last five years.

Although a relative newcomer to bell ringing, Steve has over 30 years of experience in IT, electronics and software businesses having worked for Control Data Corporation, Siemens and Océ before setting the first of his two technology businesses in 1999.
Steve has a passion for problem solving and a "will do" attitude and having followed his wife into bell ringing 18 months ago following a 'have a go' session, soon after he realised the impact of him learning on the local community and started investigating simulators. He got hooked both on ringing and the use of technology to help accelerate learning, and with the assistance of his local tower designed, developed and installed the first prototype Simbell Wireless system in under a month.
Eminently practical, his background in analytic fault finding has led him to work with other towers providing guidance for fault finding on simulator problems and at the same time often teaching the operational basics of simulator use.
He is always innovating and is currently working on a few other ringing related products – as well as trying to learn how to competently ring Plain Bob Doubles!
John started learning to ring at the age of 20, at Hurstpierpoint in Sussex. Although now rather long in the tooth, he continues to maintain the interest in teaching and encouraging new ringers, particularly young ringers, that is an essential part of being a tower captain, a role he is currently fulfilling for the third time. He has been interested in ringing simulators since the early 1980s and since 2003 has been building mini dumbbells for home use, linked to appropriate ringing software such as Abel, Beltower etc., to provide ringers with extra opportunities for method practice and developing their listening skills.
Dumbbells for the home necessarily rely more on self-learning than instruction but John provides learning material with his dumbbells and with his own ringing software. He takes a dumbbell several times a year to ringing and other events where he provides ringing opportunities for both would-be ringers and the more advanced.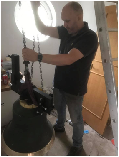 Born into a ringing family, Matthew started ringing and also hanging small bells as a child. The development and production of mini-rings in the mid 1990's led to the formation of Matthew Higby & Company Ltd, which is one of the six main UK bell hanging firms, currently in operation. Whilst the majority of the company's workload remains the casting, tuning and general restoration of church bells, we have developed a range of training dumbbells and regularly supply these together with portable mini-rings which can be used for demonstration purposes.


Chris was taught to ring in 1985, by Phil Gay, on the Cummins simulator installed in Keele church.
Chris was a software engineer then, and after some time wrote a simple program to draw blue lines. In about 1991 he made it ring methods on his first DOS PC, and then added the ability to ring one or two of the simulated bells from the keyboard - mainly so that he could teach himself handbell ringing. The programme grew and grew and became Abel, and in January 1993 (25 years ago!) was launched in The Ringing World.
The Windows version of Abel was launched in 1999, Mabel for Mac in 2009, and Mobel for iPhone/iPad in 2010.
Between them they've sold nearly 14,000 copies. Originally, Chris thought Abel would sell a hundred or two copies in a year or two, perhaps raising enough money to buy a PC for Audlem tower, then fade away. Wrong!