ART Conference 2019 speakers & presentations

Mark Regan
Mark Regan is the Ringing Master at Worcester Cathedral and a member of the Worcester DAC. He has rung 2400-(ish) peals, over 200 peals on bells over 40cwt and over 1000 peals on 12 bells.
Since living in Worcester he has installed two new rings of bells in the city; and has opened up several 'unringables' in the Diocese, the most noteworthy being Bredon, Bengeworth and Severn Stoke. For many years he was the Steeplekeeper and Churchwarden at St Mary le Bow in Cheapside. When living in Leighton Buzzard he restored the bells twice, the second time was after a fire severely damaged the church in 1985. Mark's latest project is to install a ring of bells in a new arts building at Christopher Whitehead Language College in Worcester.
He passionately believes that the future of bell ringing has as much to do with establishing better relationships with the Church of England and the community, as it has to do with teaching new bell ringers.
---

Matt Bulbeck
My name is Matt Bulbeck and I am a 20 year old professional outdoor sports coach, specialising in Stand Up Paddleboard Racing and in Windsurfing.
I have completed my ART Module 1 accreditation, having first started ringing in 2012 after being encouraged to give it a go by my mother. I found out that I really enjoy ringing, pushing forwards as a ringer and training with the regional youth team for about a year before dropping out due to work commitments. I started teaching ringing by assisting the instructor at our local tower, bringing my coaching experience from work and other ventures into it. This allowed me to use a number of different techniques that I have developed during my six years working in the outdoor industry. I try and encourage a constant flow of self-assessment from the client rather than a monologue all coming from me, which is widely regarded as being the ultimate goal of coaching; you being able to step back and allow them to correct themselves, with you guiding them.
---

Simon Rudd
Simon learned to ring in 1967 at Great Bromley in Essex and became Tower Captain at the age of 16. He has lived in East Anglia for the intervening 50 years, gradually migrating back to Norfolk via Suffolk, reversing the southward journey his family had made in the Victorian era.
Simon has served as Ringing Master at both St Mary-le-Tower in Ipswich and at St Peter Mancroft in Norwich which is his current home tower, although he remains an Ipswich Town supporter in a Norwich City world! Simon wrote the initial paper describing the scope of the Mancroft Appeal 300 project and served as the project's Chairman from 2012.
---
Ian and Louise Wilson
Ian has fifteen years of working in Higher Education, lecturing subjects such as Human Resource Management, Project Management and Engineering Business Management teaching a range of diverse students at various levels. Ian brings his knowledge and experience gained working within the manufacturing industry where he was a successful manager leading teams of engineers and operational workers. Ian began bell ringing at a late stage of life when his wife set him one of fifty challenges to learn how to ring bells. This was for his 50th birthday. Ian is currently on a journey to becoming 'useful' in his local tower! Within the two years of ringing Ian has rung in over forty different towers around the country and two internationally observing different teaching and learning methods.
Louise spent twenty years working in the Financial Services Industry leading departments and developing teams before moving to teaching in Higher Education. Since becoming an academic in 2007, Louise has written, developed and led a variety of Programmes designed for business professionals and academic staff. Those at the start of their careers. People who are responsible for developing adults and creating learning experiences that are practically-based and learner-centred. Louise's teaching interests originate from this background and as an educational researcher this informed her PhD study. Specifically, understanding the experience of transition as newcomers learn and journey from professional occupations through to academic practitioners. Louise discovered her passion for bell ringing in March 2016 and having caught the bug for a wonderfully challenging activity finds herself appreciating the art from the perspective of being a newcomer to the ringing world later in life.
---

Jennie Higson and Giles Willson
Jennie has been ringing for over 30 years and is a third generation ringer. She isn't sure how many peals she has rung, but the majority have been on 12 or more bells. Jennie has completed ART Modules 1 and 2 and is a mentor, workshop leader and the leader of the Northampton Ringing Hub. Jennie enjoys teaching ringing and is keen to develop this in Northampton and further afield by engaging people through adult education as well as through school groups.
---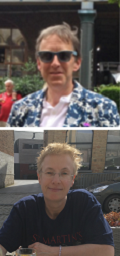 Simon Linford and Clare McArdle
Simon Linford is active at most points on the ringing spectrum. A typical week could see him helping at the Birmingham School of Bell Ringing, ringing a peal of spliced at Birmingham Cathedral, going to a Guild practice, and teaching his daughter and other children at Brumdingers.
Simon has rung some stupidly complicated peals, most recently the record peal of 20,000 all the work Spliced Maximus in 38 methods. He does however love teaching at all levels, with a passion for helping people do things they didn't think they would be able to do.
Most recently Simon has been behind the 'Project Pickled Egg' initiative, which aims to develop properly a new set of Core Surprise Major methods to replace the Standard 8, with the degree of thought, consultation and follow-up resource that could have traction, and change the way we learn and progress in Surprise Major.
Clare learned to ring in the 1970s at Harborne in Birmingham, where she still rings and she is one of the co-founders of the Birmingham School of Bell Ringing.
She has had a particular interest in training and development of new ringers for the last twenty years or so. She first got involved with ART in 2011 when one of the ringers she had taught asked her if she would accompany and mentor her through Module 1 of the teacher training scheme. She has mentored several teachers through both ART Modules and became an ART Assessor in 2015 and an ART Tutor in 2017.
For her, the Learning the Ropes scheme has proved a great tool to give new ringers a well thought out and positive experience of learning to ring. New ringers are a little bit like new chicks – they think of the first person they see as their "mother" and will be dependent on them for everything to do with their ringing progress. They will be asking your advice for a long time. The Learning the Ropes Plus follow-on scheme helps them to fledge as independent ringers. It helps them to make wise choices about what to try next and gives them sensible goals to work towards.
---

Andrea Watkins

Andrea has over 11 years of experience as a qualified Social Worker having worked in local authority settings as a practitioner and manager. She then worked in policy and performance for a Children's Safeguarding Board and subsequently took up a post with the British Council as Regional Child Protection Manager supporting the safeguarding arrangements for the regions of the Middle East and Sub-Saharan Africa in addition to the strategic business units within the organization.
Andrea is currently interim National Training and Development Manager for the Church of England National Safeguarding Team. She brings a range of skills and experiences in management, training, policy development, capacity building, quality assurance and multi-agency collaboration at a local, regional, and international level.
---

Marcus Booth
Marcus has worked in the insurance industry for 32 years, starting with the Phoenix in Bristol, morphing into Sun Alliance, Royal and Sun Alliance and RSA, before joining Ecclesiastical Insurance in 2005.
He started as a Property Pricing Analyst, specialising in Church and Heritage before becoming Underwriting Manager at Ansvar in Eastbourne for 2 years, then Schemes Underwriting Manager and since 2012 he has held the role of Church Underwriting Manager.
Whilst it's not a pre-requisite to be a ringer in this job, Marcus considers it certainly helps! He and colleagues meet with the CCCBR for annual liaison meetings and generally deal with ringing queries from customers. Marcus is responsible for a number of the bell-ringing articles and guidance on the Ecclesiastical website. He is a Fellow of the Chartered Insurance Institute and a Chartered Insurer.
---
Roger Booth, Matt Lawrence and Don McLean
Roger Booth. Taught to ring in Gloucestershire, and now living and ringing in Hampshire after spending 40 years in London, in his ringing career Roger has held various posts within local Associations and served on various Central Council Committees and working parties. Having been involved in restoring several rings, Roger turned his attention to issues of recruitment and training, to help ensure there are adequate numbers of ringers to ring these restored bells. Roger is also the owner of the Charmborough Ring and particularly interested in ensuring that systems are in place to adequately follow up new ringers, and maximise retention.
Matt Lawrence. I am the ART Regional Development Officer covering Shropshire. I started ringing in Walsall as a teenager in the mid 1980's when a school friend persuaded me to have a go and has been ringing ever since. Although I have been ringing for over 30 years it is only since moving to Lilleshall 5 years ago that (out of necessity) I started to teach people to ring. I have found ART incredibly useful in my development as a teacher and volunteered to be a Regional Development Officer to help support the recruitment and training of new recruits in the local area.
Don McLean. I started ringing in 1966 in Carrickfergus and except for a 5 year gap in the "Noughties" have been ringing ever since. I am currently on my third period over the years of being Northern Ireland Ringing Master. I've also been Irish Association Ringing Master and Association President for 5 year periods. From about the age of 17 I've been teaching people to ring and when I returned to ringing I was delighted to learn of the creation of ART and embraced the concepts of ART teaching which were very close to my own. I volunteered to become ART Development Officer for Northern Ireland to teach both new recruits to ringing and also importantly new teachers to the ART standard to ensure the survival and growth of ringing in Northern Ireland.