The Association of Ringing Teachers is delighted to announce the appointment of their new Chair, Andrew Slade. At the Annual General meeting, held today in Birmingham, Andrew Slade succeeded Lesley Belcher who is stepping down after holding the position of Chair for the past four years.
During her term of office, ART has continued to flourish.
Lesley has brought a professionalism and accountability to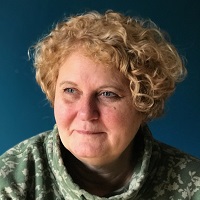 the Charity which has seen the reputation and profile of ART grow exponentially. She has nurtured the working relationship with other ringing associations and during lockdown, was pivotal in steering ART through t he hiatus of no ringing. Under her guidance ART used the time to good effect – completing many tasks on its 'to-do' list for which there had never been time while everybody was out ringing. Lesley was also instrumental in all of the on-line initiatives to help ringing recover. ART continues to thrive and it has been Lesley's personal approach and encouragement to her team of volunteers which has been particularly valued. Prior to becoming Chair, Lesley was on the Management Committee where her portfolio included communications and IT. These areas she will continue to oversee as she has agreed to remain as a Trustee of ART. She will be a hard act to follow.
Andrew Slade is relatively new to ART, but has taught many people to ring in his home town of Richmond in Yorkshire. Having spent a successful career in higher education, Andrew has held many posts within the Yorkshire Association and is a trustee of Taylor Bell Foundry Trust. Andrew said at today's meeting: 'It is an honour and a privilege to be asked to serve as the Chair of the Association of Ringing Teachers. As one who benefited greatly from the support of many in ringing, especially at the start of my long-standing association with bellringing, I have an opportunity to assist, in a small way, those across the UK and the world who seek to keep the Exercise going, with purpose and with dedication. ART is in rude health, following four stressful and successful years under the guidance of Lesley and the Art Management Team and Trustees.
I know that the support of all of the members of ART will be necessary and forthcoming over the next period and I hope to visit all areas of the UK in which ART is active over the year so that I can see for myself how well you are all doing"
The ART constitution requires Management Committee members to serve no longer than a maximum term of 10 years in order that fresh people with new ideas come in, ensuring ART continues to be an energetic and creative and imaginative organisation.
We wish Andrew every success in his new position and thank Lesley for her hard work and dedication.