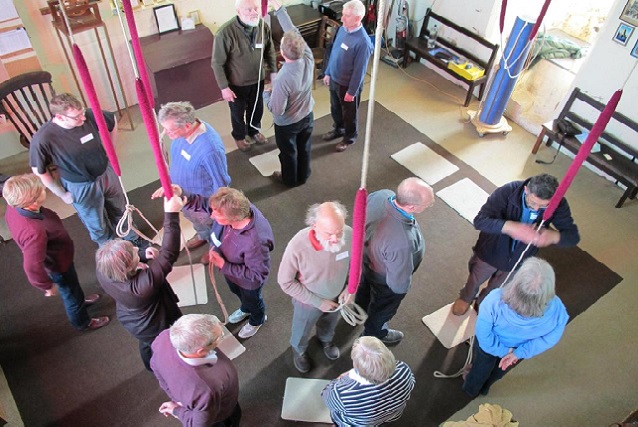 If you wish to run an ART course or workshop in your area then we'd be delighted to work with you.
Running a day course is a great way to invigorate ringing in the locality, helping you train and retain new ringers and build a strong teaching community.

---
Running an ART day course or workshop is hard work but rewarding. ART has had plenty of practice at running these courses and you will work closely with the ART Administrator and course tutor to make the day a success. As you know the local people and towers much better than us, we will be looking to you for guidance on matters relating to them.
Benefits of running a local course
Organise a course so that you can train new ringers to fill up your local towers and help invigorate ringing in the locality:
By learning together you can all support and help each other as you apply your new techniques and skills after the course.
Learning and teaching together is great fun!
Using the common approach to teaching provided by the course individual teachers will not have to attend every teaching session.
Teachers can gain experience with different learners working with a variety of mentors along side.
Retention improves.
Group teaching works well – there is more support for teacher and learner alike and it is more fun for all. There are different ways of doing this; consider a well-equipped central venue to act as a Ringing Centre or travel around several local venues to give new ringers experience of different bells early on.
Realising these benefits
The ART Training Scheme is much more than a day course. To get the best results we recommend that:
Teachers should start teaching straight away to practice what they have learned and if appropriate progress towards accreditation.
New ringers (for Module 1) and practices (Module 2) are in place before the course. You may wish to organise this as a group beforehand.
Teachers are paired with mentors who are able and capable to dedicate the time to working with and monitoring the progress of the teachers they are allocated to. It is a responsible position, and those selected must be willing to adopt ART techniques.
The Day Itself
The course is a mix of theory lectures, discussion and practical sessions in the tower. Consider the following practical arrangements with the tutor prior to the course:
Easy going bells
Simulator required for Module 2, tied bells are sufficient for Module 1
Room for theory sessions
Electronic requirements (screen/projector/laptop) and positioning
Tea and coffee break arrangements
Lunch arrangements
Arrange for some one to write up course and send to course tutor for public relations use
Arrange for photos to be taken
If you have a small nucleus of people wanting to learn with ART then hosing a day course could be just the right thing to do. When the course is advertised on the ART website our experience is that teachers from further afield quickly fill up the remaining empty slots.
---
Interested in organising a day course?
If you and a group of interested ringers want to organise a day course or workshop in your area then contact the ART Administrator who will help you organise the event.