Background
The Yorkshire Tykes are a Young Ringers group which meets monthly to encourage young ringers from across the Yorkshire region to ring with their peers, and to offer "exceptional ringing opportunities" they would not normally experience within their local towers.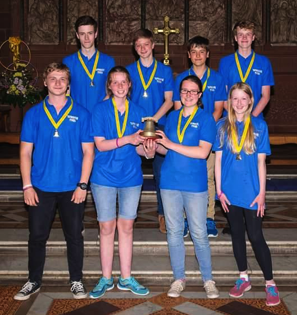 The group was formed following the RWNYC (Ringing World National Youth Contest) in Worcester in 2014. For that contest we struggled to find 8 young ringers from across Yorkshire to form a team. Yet the 8 ringers who did take part won the gold medal in the method ringing section. Following their success it was decided to establish the group on an official basis within YACR and to start holding regular monthly meetings, outings and quarter peals to grow the group and nurture successors to the Worcester 2014 team.
We started with just 8 young ringers in 2014. During 2018 24 different under 18's have attended our meetings with an average attendance each month of 12-15 youngsters, plus their parents or tower captains for support. The group has grown during the last 5 years and is now established as a "Branch" of YACR, giving it official recognition within the Association. The leaders are David Hull, Jane Lynch, Alison Edmonds and Peter Kirby.
Ages range from 8 to 18 years old with a wide range of ringing experience from basic bell handlers to surprise maximus ringers.
We hold meetings on the 2nd Sunday of each month and rarely miss a month even during summer holidays.
We also have at least one annual outing further afield when we try to join another young ringer group if possible. The group continues to enter the RWNYC each year and rings occasional quarter peals. Most meetings involve a social element usually involving food prepared by the adults whilst the young people are ringing!
As an "official" branch of YACR this means we can promote our meetings widely on the YACR website and Facebook pages and we also have a Yorkshire Tykes Facebook page. The team has also entered the YACR inter branch striking contest. We have held joint outings with the Fen Tigers and the Birmingham ringers which helps the youngsters get to know each other. We also rang for Children in Need in November 2017 raising £440 in sponsorship for the appeal. This was in the local press and helped raise our profile with the people who sponsored us. Some of the team being able to ring "Pudsey at Pudsey for Pudsey!"
I have nominated the Yorkshire Tykes as I feel the organisers deserve recognition for the work they have done to establish this group, and the steps they have taken to ensure it continues long term. The young ringers themselves are to be praised for their commitment and loyalty to the group. And their parents must be the most widely travelled ringing parents in the country! They travel miles to ensure their children attend our practises and events.
Prior to the establishment of the Tykes on a formal footing there was no focal point in the Yorkshire Association for our young ringers, and the retention rate for young people learning to ring was poor. Many were ringing in isolation at their local towers, and often outgrew the ringing opportunities available locally.
The group has given them the chance to ring with their peers on a regular basis, to realise that other young ringers exist, make new friends, and has encouraged them to further their ringing careers. Several of our young people have stated that they would have lost interest in ringing without the support of the Tykes. The group has maintained the high standard set by the original 2014 team consistently achieved excellent results in the RWNYC, whilst our regular meetings are ensuring we have a succession of young people waiting to get into the team.
Achievements
Ringing World National Youth Contest – Winners 2017 - Birmingham
The young ringers have grown in confidence and are no longer wary of each other during meetings, in fact the noise levels can be unbelievable at times. They run all the practices themselves with the older ringers assisting the younger ones when necessary. Everyone is encouraged to call changes, or to call touches when they can. This has given them invaluable experience of running sessions and three of them have acted as branch ringing masters within their respective YACR branches. All our young ringers have rung at least one quarter peal in 2018 either with the Tykes or at their own towers. Some are regular peal ringers and one rang her first peal this year (Yorkshire Surprise Royal). The adult ringers are asked to help with the more advanced methods and act as "standers behind" when needed.
Four Tykes have starred on the national stage ringing in the three record peals of Cambridge Royal, Cambridge Maximus and Bristol Maximus. Since 2014 eight of our young people have turned 18 and have either gone on to continue their ringing at University or continue to ring in their local towers. We follow their progress and encourage them to visit us when they can.
There have been difficulties along the way, Yorkshire is a massive place (9229 square miles) and engaging with parents and getting them to transport their children to meetings has been difficult, we rotate our meetings around as many towers as possible but concentrate on large towers in the areas our youngsters come from.
Encouraging tower captains to support their young ringers to join the group has also been difficult as we don't always know where the young people are based. Being a branch of YACR is helping us gather this information so we can contact them directly. An email list for the parents has been established along with our very own web pages YACR Young ringers and Facebook page (a closed group for privacy purposes).
Getting young ringers from non-ringing families to venture out of their home towers is also a challenge as we don't always have direct contact with the parents, that said the numbers in this category are growing as we become more established.
The social element of our meetings (usually involving food) has helped develop a bond between the parents and they are now taking turns at organising catering and sharing transport.
Our leaders are DBS checked and have undertaken safeguarding training. We have permission to ring forms for any unaccompanied young ringers. These cover our normal meetings with specific forms for our weekends away. The RWNYC events have involved overnight stays with the associated costs of transport and hotels.
The Future

Continue to identify young ringers in local towers and encourage them to join the Tykes.
Continue to enter the annual RWNYC.
To ring more quarter peals as a group and hold quarter peal days.
To hold ringing workshops during school holiday periods.
To have Young Ringer events at each YACR meeting.
To participate in the annual YACR inter branch striking contest.
To forge links with other young ringer groups in neighbouring areas and organise joint events (e.g. Durham, Lancashire, Derbyshire and Lincolnshire)
To encourage some of the young ringers to undertake the ART courses for teaching bell handling.
Encourage our young ringers to continue ringing at University or in their home towers and branches.
Encourage our young ringers to take on leadership roles in their towers and branches.
To encourage them to be the conductors and ringing teachers of the future.
The hard work of our organisers cannot be under estimated. Arranging all our meetings, keeping contact with all the parents, organising catering, booking towers and maintaining our web pages requires continuous commitment. It has not been easy to establish and grow the group and keeping the momentum going will be our main objective for the future.
During 2018 we held 9 x monthly practices visiting 15 local towers, and had 3 x outings (including RWNYC)
We went to Worcester Cathedral in February 2018 and visited all the towers in Worcester City centre plus the Cathedral Ringing Centre. We had a social event in the evening and rang for Sunday Service at the Cathedral.
On 17th March 2018 we visited Liverpool Cathedral (despite the Beast from the East) where all our young people were able to have a ring, some with assistance. We also rang at Penny Lane.
A Tykes quarter peal was rung on 17th June 2018 at Richmond – 1260 Plain Bob Triples as part of our preparations for RWNYC
The Tykes finished 3rd in the RWNYC ringing Plain Bob Triples awarded B+ grade, a very pleasing result as new members joined the team this year.
The numbers of young ringers attending meetings has grown slightly with our average attendance being 14.
Four of our young ringers rang in three record breaking young ringer peals.
Much of their success is down to meeting and ringing together on a regular basis and forming the team spirit and pride in being a Tyke. Those Tykes polo shirts pop up all over the place!