Background
The tower has a long tradition of holding a quarter peal attempt each week followed by the main ringing practice on a Friday evening where the standard ranges from Triples to Spliced Surprise Major. Ringers are invited from towers around west London and beyond to support members of our own band ringing at this level. For a long time this was one of the most advanced practices in West London. Recognising that the Friday practice was not a suitable platform for nurturing beginners, Eddie Hartley, then Tower Captain, started a separate session on a Saturday morning to give more time for teaching handling and elementary ringing. This session has run almost continuously for over 20 years but has taken on a new lease of life with Trisha Hawkins as Captain, when trainers became qualified as ART teachers and everyone used ART training methods. This application relates to the Saturday Training and Practice Session.
The bells are easy (10 cwt) and we recognise the huge advantage of having a ringing chamber at ground floor level in a corner of the nave with a large clear space alongside.
Our objectives have been to promote an environment in which ringing can flourish and, through this, to teach good bell handling and the practical and theoretical bases for individual development in a relaxed and happy atmosphere.
We work with the full support of the Surrey Association who now regard us as one of their three training hubs. We have hosted courses for the Surrey Association, Middlesex CA and for ART. Some of us helped teach at the 2017 Middlesex Summer School. We work in a loose 'cluster' with Fulham, Chiswick and Richmond supporting their training and as well as helping individuals from other towers.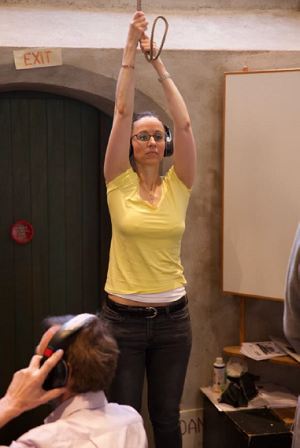 We have sensors on all 8 bells and can offer 4 simulators with cordless headsets for individual practice (augmented to 8 on occasions for courses). We silence all 8 bells for the first half of the Saturday practice. A screen near the ringers shows the bells in real-time. We take slow-motion videos to show handling problems and offer iPads or laptops for manual use. We use handbells to assist the learning call changes and plain hunt and sometimes offer this as a parallel activity if our numbers are high. We are fortunate in having in the church a flourishing coffee shop that is open when we are practicing on Saturdays and facilitates a natural and easy ambience for exchanging experience between ringers.
Currently we have 32 people of all ranges of ringing ability on our books. This includes 16 beginners and improvers as well as the experienced ringers and trainers. We circulate an email to everyone each week and have an average attendance of 15 to 20 across the morning (some come early for the tied bell session and others come for the open ringing only). We normally have three or four of six local trainers (two full ART members, two with M1 accreditation and two who have attended M1 courses) in attendance. We ensure it is clear to everyone which of the trainers is leading the training at any point. The helpers are mainly loyal Sunday ringers from Barnes and nearby, most of whom are able to ring up to plain hunt or simple doubles, and who enjoy coming to support. The Association have occasionally provided assistance if we are short.
We are very happily attracting a diverse mix of age (12 - 80 years), race, culture, gender and mental ability. We are aware of the requirements for safeguarding and have experience of helping people in all the categories that the scheme seeks to protect. Many helpers as well as trainers have DBS clearance and have undertaken additional training.
What has inspired the nomination?
ART's request for submissions from people who think they are doing something perfectly ordinary!
Encouragement from those who train at this Saturday Training and Practice session.
The wish to emphasise the contribution that any ringer, even on the Blue Zone/Red Zone border, can make to help build up a practice such as this, where early learners can thrive in a supportive yet challenging atmosphere (and maybe even go on to make the Black Zone one day!)
The need to raise funds to replace some of our early technical equipment and for the installation of two dumbbells.
Objectives

Our objectives were to improve the quality of the experience on Saturdays for both trainees and teachers: to ensure that trainees feel a sense of fun, satisfaction and progress, are more at ease and free from any boredom arising from slow learning; that teachers provide consistent, carefully thought out training which addresses the needs of the individuals concerned.
In the longer term we want to encourage friendship and a sense of belonging to a welcoming group, to nurture their progress and, through it, to attract more new ringers who will find the help to enjoy the exercise and maximise their potential.
Blocks, barriers and challenges

We found that we needed to change our attitude and update our approach towards teaching to recognise and accommodate the different needs of learners. We needed to make ringing more attractive for learners and thus improve retention rates in a modern world where there are so many other activities on offer and more demands on people's time.
The teachers themselves needed to be more aware of the best way to communicate with trainees.
We were keen to ensure that all who came felt that their time with us was well used.
The launch of ART provided the perfect training ground for us to ensure we recognised the different ways people learn and to understand the framework within which learners can feel they are progressing. Once we had the training it took only a few months to implement a large number of changes. We learned to praise and be constructive rather than criticise, never to intimidate and always to make everyone feel they had succeeded even if in a very small way but above all to ensure everyone enjoyed themselves. We try to ensure that a new ringer has a dedicated trainer and does not have to share one-to-one time with another learner at the same session if at all possible. If a recruit cannot fit into our early Saturday handling session we do our best to make ourselves available at times they can manage. We are always prepared to offer up to three lessons in a week in the early stages to capture and benefit from their enthusiasm until they can handle safely.
Achievements
Over the last 18 months the number of new ringers and improvers has increased dramatically from 3 or 4 up to the 16 active ringers currently registered on the ART scheme. Word has spread that we are a welcoming practice, using ART methods and open to early learners in the District. Some we are training from scratch at the request of other towers and others are encouraged to come to us to supplement their local training if there is insufficient time or skill to concentrate on individual needs. Attendance rates vary considerably - some come every week but others maybe once or twice a month depending on work roster duties, parental/family arrangements and other commitments.
Trisha has passed 6 ringers at L1 in 2017 and 4 prior to that. Another 3 should reach L1 in the next two months. At L2 level there were 2 passes in 2017 and we have contributed to the training of a successful L3 ringer registered at a local tower. All these are currently working towards their next level and feel they are progressing, even though the rates vary considerably. A further 7 ringers entered onto the scheme have lapsed: 4 realised the time commitment was too great; one left the area and another two stopped for personal or health reasons.
We take the learning process seriously but ensure that it is undertaken in a very friendly, supportive atmosphere. As teachers we are happy to admit we are not perfect ringers but that we get huge enjoyment from it.
We enable a situation where members of the group get to know each other whilst not ringing.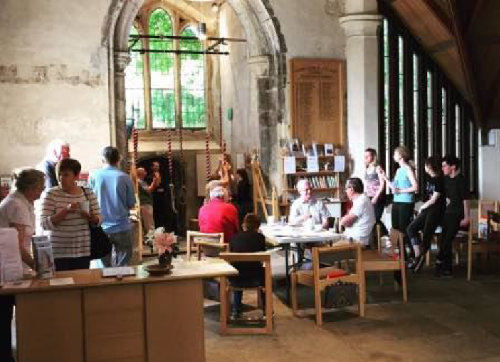 We value those in our own band who come along just to support, to chat to and encourage the learners while they stand out and while the teachers are busy with other learners. This gives them a valuable role for the Saturday mornings. The learners enjoy the welcome given and the information they receive.
The progress and size of this group has exceeded our original objectives.

Leadership Skills & Innovation

We feel communication alongside structured progress is a key area. Each week we email everyone in the group setting out any specific activities and personal goals and to ask them to let us know if they will be coming, in particular whether or not they wish to attend the 9.15 clamped bell practice section. This enables us to tailor the session to those coming, ensure sufficient assistance is available for one-to-one support and for the various goals and to set up laptops for those wishing to use simulators. Each reply is acknowledged individually with friendly communication/comments as appropriate.
During tied bell sessions we have learned how to have the confidence on occasions to ask some of those who are only slightly further ahead in the learning process to teach aspects of ringing or handling to others. This proves really popular on both sides. Often they are able to explain something far more clearly having only just learned it/worked it out themselves and it gives them lots of confidence when they are considered good enough to help in this way. Those who have been ringing for ages can have difficulty explaining exactly what it is they do or remembering how hard some things can be.
Similarly, during open sessions, if someone is finding some aspect of ringing difficult, we frequently invite comments from other learners in the circle to explain what made a difference for them in overcoming the problem. This invariably helps the learner and also helps us to help others in future.
We use every single opportunity to engage with anyone watching the ringing and to interest them if appropriate. The large number attending our ground floor practice often attracts attention and visitors get very positive vibes from seeing everyone enjoying themselves.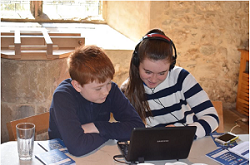 We encourage interested small children who are too young or too small to ring a tower bell to join in some activity. We frequently teach very small children to chime the service bell. One young son of a ringer was very happy standing by the treble and calling us to Queen's and back on a Sunday morning, mostly very accurately and with very few prompts. Another 6 year old had a wonderful time using the laptop learning to cover on 4 bells (very successfully) while her brother was having a handling lesson.
We try to include a new learner in open ringing at the earliest possible opportunity (even on the first lesson), just ringing the backstrokes with their trainer ringing handstrokes. This is usually a huge thrill for them and proves very motivating.
Very new learners are frequently asked to listen to and even comment on the striking before they can handle a bell alone. This engages them in the activity and encourages listening from an early stage.
We value the varied and large number of ways our loyal Sunday 'rounds and call change' ringers can help in nurturing a beginner/improver group such as this.
Succession Planning

We encourage anyone interested in teaching to follow the ART Training Scheme with the aim of keeping the numbers of qualified trainers up to the required level for this session. We have the potential for succession in the tower which has been made surer by discovering just recently that it is possible to start a teacher with M2 since M1 can be a barrier for some of the team who have excellent skills for teaching improvers.
Success Factors

The trainees tell us that they find the relaxed and friendly environment in a practice totally geared to their level of learning and with clear goals is key for them gaining confidence and progressing quickly.
We love the way this group has evolved into its own community of ringers where all ages and ringing abilities rub along together so well. They inspire, help, motivate and enjoy each other. Cakes and coffee round the table definitely contribute to the easy atmosphere.
The commitment of the teachers to try to live up to the high ART standards and to deliver a quality training programme.
Large numbers of learners attending the practice which results in less pressure felt by any individual. Learners can enjoy each other's successes as well as sympathise with the difficulties! Also, the enthusiasm and friendliness of the helpers who treat learners as 'part of the family'.
Above all make the session fun and … enjoy your trainees!
Be prepared for the importance of the pastoral role the group leader needs to adopt in caring generally for any of the ringers. This goes a long way towards making them feel committed to the group.
The Future

We need to consider how to give the 'improvers' more rope time until they are sufficiently capable of moving on either at their home tower or to benefit from our Friday evening practice. We hold occasional midweek evening practices targeted at one or two learners and hope to make these more frequent.
Listening to our trainees it is evident that they gain confidence from seeing the range of abilities of those who come to help and realise that satisfaction and great fun can be had by ringers who are not so proficient. Similarly, they note that these more "experienced" ringers still need to pay attention to their handling and they hear these people criticising themselves despite their experience. It all contributes to the trainees understanding that this is something that is not just for the "marvellous ringers but that these ringers, who at present are better than they, are just like them!
Supporting statements from Saturday ringers
Jennifer (learner since November 2017)
"I am coming to this through the "call to arms (or sally's)" as so to speak via a BBC 24 hours TV news feature in November to mark the final year of the First World War centenary commemorations 1,400 new bell ringers to be recruited in honour of the 1,400 that lost their lives during the war.
"Linking together past, present and future" 'TPPF'
I truly feel that this has been captured here at Barnes.... it is AWESOME, I have been embraced, even though I am neither a church goer or necessarily a believer in the faith - the demographics of the group covers 'TPPF' (to promote and defend liberty, personal responsibility, and free enterprise) in abundance, the tea shop, the local parishioners and community ambling by and engaging in friendly chatter, the openness, warmth, passion and generosity of my tutor (Trisha) freely passing on her mantle and love of bell ringing to myself and others is inspiring, this is further bolstered by team members like Eddie, Giles and even young Dominic - watching, talking, being given hints, tips, confidence and again that clear evidence of passion for this art makes me want to keep coming back and also spread the word through my peers for them to try also.
Emma (learning with partner Mark since March 2017)
The key thing for me is the quality of the teaching - primarily you and Eddie but others have really helped too - Katherine always has something helpful to say. You give useful sound bites - if the bell rings too soon pull harder (I think that's what you said this morning) - it really helps to have a focus like that. I don't feel you give me too many things to think about. It's a great atmosphere - it's not stressful. You and Eddie are very patient. Sometimes learning something new is additionally stressful because you think you're going to be told off etc but it's not like that. I like all the different people/ages. I like it because it's something Mark and I can do together. I feel like I'm making progress every session. It feels good mentally and physically.
Louise (learning since November 2016 with children Isabelle & Dominic)
We very much enjoy the Saturday ringing lessons. It brings us together as a family and within the wider Barnes bellringing family. There is a real sense of camaraderie amongst us all.
It appeals to us for many different reasons, it gives a real sense of achievement when passing milestones both mentally and physically. It is a specialist skill that not so many people can say that they can do, so it is always a talking point. There is nothing like the sound of a bell ringing especially when it is being rung by you. It is one of the most evocative sounds in this country and everyone outside loves to hear the bells being rung, even by beginners! The sessions have really helped us all with self esteem and with attention to detail to achieve good results. Learning from so many experts is always good as grasping a concept from many different angles is a very good way of learning. The sessions are always well organised and the timetabling is rock solid. Bellringing is now one of the things at the centre of our family life.
Naomi (university student, started in January 2017)

For me, the Saturday sessions at Barnes are about more than just learning to ring - they are about building a sense of community that bridges age gaps and ability. Having such a range of ringers, from brand new beginners to those who have been ringing for decades, offers an incredible opportunity to learn from a wide range of people and pushes me further every week - I find myself trying things I wouldn't have thought I could do! Having such an inclusive group with so many helpful and friendly teachers is vital to starting a new hobby, and I feel particularly lucky to be a part of such a vibrant, diverse, and growing group. I feel all of this has meant I've progressed quicker than I had ever expected, and I've certainly found a hobby, or indeed a passion, for life.
Barbara (Working towards L3; Richmond ringer who undertook all her early learning with us; works with an airline so only able to come occasionally)

I think what is making the practice at Barnes successful is a combination of various factors. In no particular order:
It is held on the ground floor. The bells are fairly light and manageable.
It is held in the morning and on a Saturday. This and the above allows for more people to attend.
There is an open, welcoming, friendly atmosphere. We are all there to learn (even the teachers!) and it is acceptable if mistakes happen. If suggestions are needed or given, it is done in a polite and respectful tone/manner.
The teachers are passionate about bell ringing and equally important they believe in and encourage their students.
Training is flexible according to one's needs or bell ringing level and we all get a fair share of time each. There are also simulators for individual practice.
It is not competitive. We are there to enjoy the ringing as well as each other's company.
It is not all just work. The little tea break gives the chance for a friendly chat with fellow ringers over a nice "cuppa" and cake which are for charity too.
Chris (her tower asked early in 2017 if she could come to us on Saturdays for extra help)

When I started ringing at St Leonards it was recommended that I visit Barnes. I did not fully understand at the time why that was a good idea, but a number of the band mentioned that you can progress more quickly if you try to ring at different bell towers. I decided to take the plunge and what I really enjoyed the most about my early visits to Barnes was the focus on gently and steadily trying to get the basics right before moving on to more complicated things, while at the same time keeping the challenges coming. It was really helpful at the beginning to have a one to one session that identified problems with posture, style, hand holds etc, all the details contribute to either good or bad bell control and the teaching team are sticklers for getting these things right consistently. I love the structure and the learning progression and I enjoy the different style and skills each teacher brings to we students along with their phenomenal patience. Everyone including the helpers and students takes an active interest in helping us all to progress collectively. For instance yesterday I was sitting down concentrating on writing out plain hunt and looking at the relationships and patterns for each bell when all of a sudden I was asked what I was doing and having engaged in that conversation I picked up a new tip that I hadn't heard before. On another occasion, one of the students sent me a link to a website that helped me to think about and start to unpick the complexities of plain hunt, which I refer to regularly. Lastly, it was a whole new experience to be asked to help one of the younger students. Who would believe that I was asked to do that? To think that I had progressed sufficiently to be trusted to help someone else? It is this exchange of experience and knowledge between all participants that brings the whole practice to a new level, along with the excellent tea and cake of course in the Church Café!
Thirza (from a local tower after losing her confidence)
Friendly welcoming atmosphere
Weaknesses and failings are pointed out but always with guidance as to how to improve and there is encouragement and praise when things go right
An opportunity to ring with experienced ringers who are willing and patient to help others less able (not all good ringers make good teachers/helpers!)
As Barnes is a ground floor ring there is plenty of space well away from the ringing for those not ringing to have a chat with other ringers/visitors and not be a distraction to those who are ringing. We can share our ringing experiences and help encourage each other.
Having the Café on site providing coffee & cake makes it a social as well as a learning occasion
Good communication - one always knows what is going on and the timings.
For me the most important aspect was the supportive atmosphere which helped me to regain my confidence (having completely lost it). I would not be ringing if it were not for Barnes
Kristen (ringing approx. 7 years, in Barnes til 2015)
Trisha Hawkins was one of the first two teachers I had as a beginning (but middle-aged!) ringer at St Mary's, Barnes. As nervous as I was, Trisha's calm demeanour made me less so. She is an essentially comforting teacher, persuading learners to try new things but with an understanding of how intimidating it can be to take risks. With Trisha, there is never shouting or criticism, rather she corrects with encouragement and generosity. I remember when she wrote in marker on the Tower white board, "Every ringer counts!" because that is the attitude she brings to each practice. Saturday mornings in the ringing chamber were always filled with laughter and cups of tea and cake, and when we had teenage ringers there to be taught, Trisha made them feel as much at home as the experienced ringers. Since I have moved to southeast London and ring at a different tower, I look back on those Saturday mornings with nostalgia. Trisha Hawkins is an exemplary and fun-loving teacher and represents the best of the ringing world.
Michael de F (ringing approx. 8 years)

Wasted the better part of two years on a combination of exercises, the purpose of which I could not appreciate, and battling with a soulless simulator as a member of a class of four. The teaching now has been transformed with amazing results. Students are ringing with others from lesson one - brilliant - and you can see the results. Happy, enthusiastic ringers, satisfied students, growing numbers and a tower that's developing a reputation for getting you going. Ringing from the ground floor of course brings many advantages as space is not a problem and a free and easy atmosphere develops that permits students, when not actually ringing, to stand and observe without feeling intrusive.
Katharine (loyal Sunday band ringer and helper on Saturdays)

I think the reasons our Saturday morning practices are a success are they are well organised, learners progress is measurable, everyone gets a chance to practice what they are learning, it is really fun, everyone talks to each other, the atmosphere is related and encouraging, we have children, families, young adults and oldies all working together.