Background

This narrative describes how our band has grown and evolved to become an intrinsic part of our rural community.
In Autumn 2010 the decision was made to rehang and refurbish our hard going 12 cwt ring of 5. I, as the relatively new Tower Captain, had been quite successful in recruiting and teaching some adults from the village to ring, so we had a small Sunday service band but it had become apparent that work needed doing to prevent the bells falling into complete disrepair.
We set about raising over £40,000 in almost exactly a year to not only restore and rehang the 5, but to augment the ring to 6. The Beverley and District Ringing Society BRF donated our new treble, thus endorsing our vision for the future. Our new bell was cast in 2011 and the work in the tower was completed the following year. At the same time, the steel work was put in place 'just in case' we ever wanted to augment to 8!
The fund raising and for and subsequent dedication of the restored and augmented ring by the Archbishop of York excited a lot of interest in the village. We attracted media attention and BBC Look North attended on our very special day.
This project proved to be the catalyst for what followed.
Achievements

I was also a governor at Roos C of E Primary School am very keen to ensure our bells continue to ring in future generations. Involving the young people in our village became a priority but I was not confident about teaching children – it felt too risky.
ART Module 1 provided the solution. It turned around the way ringing is taught at Roos. A 9 year old guinea pig was recruited. His mother had tried ringing, but was forced to stop due to a physical problem. However she had first hand knowledge of what is involved. The deal was that Lloyd would be taught to handle a bell during the summer holidays to enable me to gain my Module One Certificate. If he decided that ringing was not for him (and to be fair he had never expressed any desire to learn!) then he could stop.
Daily lessons commenced. Lloyd proved to be a very practical child who took to ringing very well. He is now 14 years old and a stalwart member of our Sunday service band. His older brother subsequently learnt and is also one of our most committed ringers.
Word spread. 9 year old Tia asked whether ringing was just for boys?She learnt, to prove that it isn't! Her little sister Izzy badgered and badgered to learn but had to wait as she was tiny. However, eventually she became our youngest recruit aged 8.
Lloyd's friend Harry and his brother James both took it up. Their mother Clare was very interested and she is now a band stalwart. Fin and Liam followed on and it became apparent that our 'just in case' provision for augmenting to 8 warranted some serious consideration. The youngsters decided that as we had more ringers than bells, we ought to get some more bells!
In 2014 the necessary funds were raised and two trebles were ordered.. This time we managed the project differently. The idea was to fully engage the Primary School – the aim being to give the children a sense of ownership of what is after all their heritage.
We had already established, what has fast become a tradition that the young ringers take part in ringing for their school services which take place at the church at least once a term. They come down to the church ahead of their peers so that the bells are ringing as the rest of the school walks through the village. We are fortunate in that we ring from an open gallery at the back of the church, so the young ringers can clearly be seen when the others arrive. This is a source of great pride for them – and creates interest and curiosity from the rest of the school. We also make sure our 'bellivision' is running – this is a TV monitor placed near the door of the church linked to a web cam up in the bell chamber. A parent of one of our young ringers installed this and we find it really useful for enabling everyone to see something of what is going on.
It was suggested to the headteacher that some of the children should come down to the Loughborough foundry and watch our new trebles being cast. The initial response was fairly predictable – funding. The cost of the coach was beyond the capacity of the school budget and parents could not be asked to pay. However, she agreed it would be a 'nice idea' if I could source some money. The communications officer at the York Diocese pointed me in the direction of 'The Archbishop's Mission Fund'. This application required a reference from the then Bishop of Hull. Initially he refused, as he could not see how taking a party of children to a bell foundry could be described as 'mission'. However, after some discussion based on what we planned to do next, he supported our application and the Archbishop's fund, along with a smaller grant from another charitable trust paid for the entire cost of the coach. I went into school armed with a model bell and a short PowerPoint presentation to give the older children an insight of what bells and ringing is about.
So it was that in 2014 Taylor's bell foundry found themselves hosting years 5 and 6 of Roos primary for a tour and to watch the casting. The children sat on the floor in the reception area to eat their packed lunches and then enjoyed an afternoon none of them will ever forget. They behaved brilliantly and the staff at Taylors pulled out all the stops to capture their interest.
The finished bells arrived at Roos – and the entire school came down to the church to watch them being hoisted by Whites of Appleton up into the tower. They witnessed a piece of living village history. One child said to me a few weeks later 'When I am grown up with children of my own and I hear the bells ringing, I will tell them 'I was there'. It was brilliant.'
Our existing young ringers proved to be great ambassadors. Ringing is seen as 'cool' and it is seen as a great privilege to be allowed up on to the ringing gallery!
The headteacher in particular realised that ringing was a great link between the church and the school. The Diocesan Inspector was very impressed and mentioned it in his statutory report – it contributed to Roos Primary being graded as 'Outstanding' as a church school.
From then onwards, recruiting young ringers has never been a problem. We have a waiting list of children wanting to learn but we work hard to ensure it continues to be dynamic. The 'Learning the Ropes' scheme is very effective at providing targets to aim for. Certificates are sent into school when awarded, to be presented to the recipient in assembly and their photograph is displayed on the 'Roos has Got Talent' noticeboard in the school hall.
Celebrating individual and collective achievements is really important so snippets of tower news and photos are posted regularly on the Roos Church Facebook page and on the church noticeboard. We also have a good working relationship with our local paper.
In 2016 we asked for the newly acquired Beverley and District Ringing Society 'mini ring' to be brought to the Roos Summer Show.14 year old Nicole began tower bell lessons as a direct result of that. Her mother learnt to ring and now her younger brother is one of our new starters.
We encourage the young ringers to participate in B & D events – especially the ones aimed specifically at them. Some have rung at York Minster, Lincoln Cathedral, Selby Abbey and this year, Beverley Minster and Beverley St Mary's. Visiting these impressive towers gives them a real buzz. One of our 9 year olds has written a report about the trip to Beverley for the Society annual report and it is obvious from his use of language, just how much he enjoyed it. They get on very well with the mini ring as they can organise themselves and do not require adult intervention.
I always require at least one parent or responsible adult to be with me when I am teaching – this is common sense good practice, but has had the spin off effect of involving whole families. In a village community, news spreads fast and I am happy to report that in Roos, the bells are viewed very positively. We get complaints when the wind is in the wrong direction and the bells can't be heard…Older community members seem genuinely pleased that so many children are now involved.
This year (2017) we hosted the annual B & D striking competition. Yes, we had the home advantage, but nevertheless, to be able to enter two teams – and come away with two trophies was a proud moment. I rang in a call change band with 4 children and an adult, all of whom I have taught. The sheer determination and concentration on their faces... They also did Roos proud by making huge amounts of amazing cakes and scones and serving them to our visitors.
None of this would be possible without the support of our 'senior ringers'. It can be hard work ringing vast amounts of rounds and call changes for the young learners but we all gain a great deal of pleasure and satisfaction in their progress. Nevertheless, we try to ensure that everyone comes away from a practice feeling they have benefited from it. Recently we have set ourselves the goal of ringing a course of Cambridge Major with a local band. It quickly became apparent that by ourselves we had bitten off more than we can chew. So we enlisted help from other B & D Society members and our final practice of 2017 was a special one organised just for this purpose. This was a great success. Having enough solid ringers to ring with and stand behind leaners enabled all of them to make significant progress. We now have a firm foundation on which to build.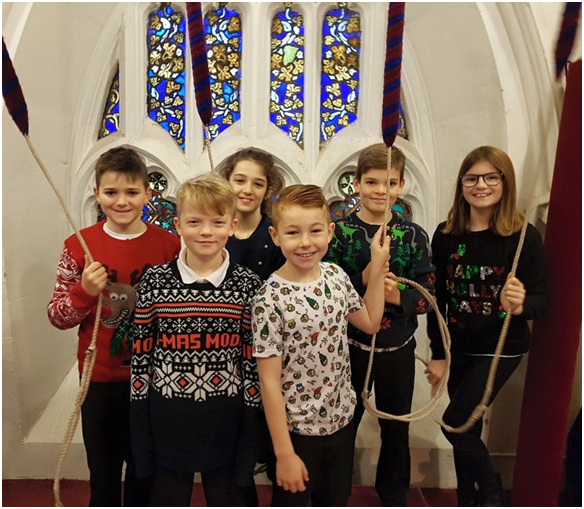 2017 has been a milestone year
Six children from Roos Primary rang for their Christmas service. They also, of their own volition, planned and led a collective worship at school all about bell ringing. They videoed each other ringing and borrowed my model bell. Their teachers are still talking about it.
In addition have six teenage ringers at various local high schools and approximately ten adults.
We have a waiting list of children wanting to learn.
Roos teams won both the 'novice' and the overall trophies at the Beverley and District Striking competition and two additional Roos youngsters rang in a scratch band very creditably.
Our 'senior band' is working towards ringing Surprise Major. When we first augmented to 8, ringing rounds was a challenge!
We accept that not all teenagers will stick with ringing but our retention rate is good. Anyone who drifts away may come back to it in later life or at any rate will be knowledgeable about bells and their importance. We are happy to be 'putting ringers out there' as one of our band has described it.
We constantly review how practices are structured. Our geographical position means we do not get many visitors to our practices from Beverley or Hull, but we work with our friends locally at Hedon and Rise to offer mutual support.
Aspirations – we have plans to extend our rather cramped ringing gallery to create space for teaching and learning away from the ringing circle.
Top tip – a few enthusiastic comments from children will work wonders!