Goal setting when teaching has been shown to be one of the most effective ways to motivate those learning. However, there are various factors which will make the use of goal setting work better for your ringers.
To be effective the ringer must be involved in their own goal setting
The GROW Model
The Grow Model or Process was developed in the United Kingdom in the early 1990s by Sir John Whitmore and Alan Fine and may provide a frame work to follow to help make goal setting as successful as possible.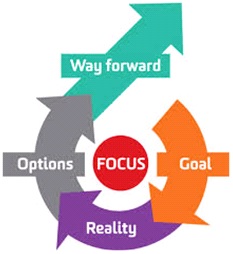 G for goal
What does the ringer wants to work on, what is the end point he or she wants to achieve? The goal should be specific and easily defined. To attain the eventual long term goal short term goals may be needed as stepping stones.
R for reality
For the ringer to be able to achieve his or her goal the task must be realistic. New ringers frequently have unrealistic goals and imagine that they will be able to progress with ringing methods in a shorter time than is likely. Ringing teachers will need to assist the ringer to set realistic goals. The ringer needs to understand that before they have developed the requisite foundation ringing skills they will not be able to progress to method ringing. At this point Learning the Ropes Levels 2 and 3 will provide the teacher and ringer with a series of short term goals to aid progress towards the long term goal.
More advanced ringers sometimes have unrealistic goals attempting to jump from simple plain methods to advanced methods without learning to ring methods which introduce the skills and ringing experience required for more complex methods. For example, a ringer who can ring Plain Bob Major competently and aspires to ringing Surprise Major could develop skills by ringing, for example, Little Bob Major and by ringing the treble to Surprise Major methods.
O for options and obstacles
Options and obstacles to progress should be part of the discussion when goal setting. Opportunities vary from area to area and tower to tower. The ringer may have reached the level of performance at the home tower and may need to ring somewhere else to enable progression to occur.It may be that the ringer simply is not getting enough rope time to learn the method. As we know, intensive training leads to faster learning. Often one practice a week is not sufficient for those learning their first methods. For ringers who only attend intermittently the chances of progress are greatly reduced. When there were more frequent church services a ringer would have the chance to ring three times a week at their home tower, once for practice, once for morning service and once for evensong. Now a church may only have a service every few weeks and the opportunity to ring on a Sunday has reduced.
Theory of the method is important. The teacher should hold theory sessions for early ringers to ensure that the method being learned is thoroughly understood. The ringer needs to know what to do. If the ringer does not know the order of work for example, for the method they are learning, they are attempting the impossible. It is not possible to ring something if what is being attempted is not learned. This may seem rather basic but frequently learners attempt methods without actually having learned sufficient to allow them to make a successful attempt at ringing it!
The theory PowerPoint lectures provided by ART in the Teaching Toolbox provide the teacher with a comprehensive, ready made and easy to use theory sessions. They can be taken to the tower on a CD and shown to the appropriate learner before or after a practice session for example. As a teacher it is worth checking by asking the ringer the order of work or getting them to draw it out on a white board or piece of paper at each practice, until you are certain they really do know the theory of what they are attempting. Homework should be encouraged.
W for Way Forward
As the teacher you can help identify which skills need developing and how and where to get the practice required to develop the skills. That is to say to convert what is needed into a series of action steps for your ringer to take. The advice may be to ring more frequently, to attend a particular practice, to attend branch practices and outings, to read a certain book or use other teaching aids, to use the resources and quizzes on the Ringing SmART Ringer site, to learn more at home or even to attend a residential ringing course.
Each ringer needs their own "way forwards", i.e. plan of action designed to suit their specific needs and to help them GROW and achieve what it is they have decided to attempt.
Example Books
'Carry on Counting' by Karl Grave – for those learning to develop skills and Plain Hunt
'Doubles or Quit or How to Conquer Plain Bob Doubles' by Karl Grave – for those learning to ring Plain Bob Doubles
'Plain Bob Minor a Mine of Information' by Anthony Bishop – for those learning Plain Bob Minor
'Rounds to Ropesight' – by Stuart Bamford, a book and DVD combo
Published by the Whiting Society and all available from the ART shop