Call Changes is the skill that most new ringers are taught after learning to ring rounds. It may be thought of as simple but there is more to it than might originally be imagined!
Preparation for teaching
What skills does my ringer need to have or develop before learning to ring call changes?
To be able to ring rounds
To be able to stay in the correct place
To be aware of where their bell is striking in the row
To be able to hear when the bell is out of place and be able to adjust to get back into the rounds
Ability to ring quicker or slower [ability to hold up and check in]
Absolute perfection cannot be expected at this stage.
What theory does my ringer need to know before learning to ring call changes?
Treble/Tenor
Front/back
Lead/lie/cover
Up/down – in/out
Concept of a row
Concept of place in the row
Concept of a whole pull
Meaning of check/pull-hold up/check in
Understanding of why change of speed is required to change place in the row
What teaching aids could I use to help my ringer understand?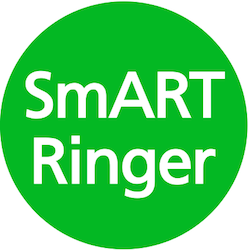 The Teaching Toolboxes produced by ART have a ready-made PowerPoint presentation for you to use with your ringers to introduce these basic concepts in an interesting way. On SmART Ringer you will find Call Change worksheets for your ringers to use.
A white board is a quick and easy way to illustrate the way in which call changes work. A few rows written out and joined together with arrows can illustrate these concepts in a few moments. By joining the bells with lines you are in fact introducing your ringer to the visual representation of the "blue line" without having to even mention it by name.
What new information do I need to give my ringer before introducing Call Changes?
Before you undertake the teaching of Call Changes with your ringers you need to decide which method of calling you are going to use. The three different calls below all lead to the same change:


| | | | |
| --- | --- | --- | --- |
| Calling up | 1 2 3 4 5 6 | "3 to 4" | 1 2 4 3 5 6 |
| Calling down | 1 2 3 4 5 6 | "4 to 2" | 1 2 4 3 5 6 |
| Calling by place in the rows | 1 2 3 4 5 6 | "3rds place bell follow 4ths place bell" | 1 2 4 3 5 6 |
Teaching Tip
Whichever method you choose to use it is important that your ringer learns to identify what place in the row their bell is sounding at after every change. As an exercise ask your ringers to say their place number as they strike their bell. This will help reinforce the concept of which place they are ringing in.