Headphones
Bluetooth headphones have a latency (time delay) between the computer signal and hearing the sound in the headphones, although this can be compensated for by adjusting the sensor delay in the software. Pairing can also sometimes be troublesome.
Some wireless headphones can also have this issue, although the Thomson WHP3001BK Wireless Headphones are probably the best to use in a multi-workstation environment. They cost £38 (Amazon) and operate on four different channels. If you intend to have more workstations you will need alternative systems. There is a button on the side of the headphones to switch channels, so you will need to instruct your pupils to press the button until they are tuned in to the right channel.
Alternatively, you can use a wired headphone, although trailing cables can be a nuisance and interfere with moving arms, unless the cables are long enough and carried around the rear of the body, or clipped with a clothes peg, or something similar. Stereo headphones with a 3 metre lead and 3.5mm jack can be purchased on the internet for as little as £3.75 (Kenable).
Ideally the teacher needs a headphone as well, to listen in to the pupil. This is straightforward with wireless headphones, and Bluetooth and 3.5mm splitters are available to enable two Bluetooth or two wired headphones to share the same computer.
Footswitches
Another refinement is to have foot-operated switches to control the software. Serial 'push to make' footswitches can be wired into a 9-pin connector for a COM Port, if your computer has one, or connected to a USB COM Port adapter. This can then be controlled by the interface on the software.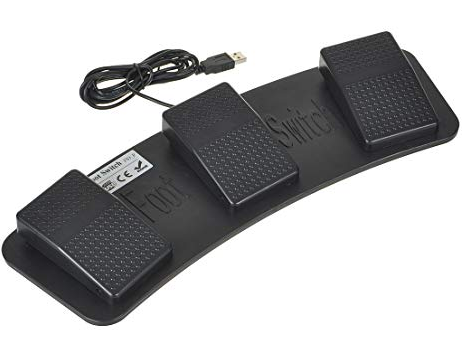 USB footswitches are cheap and readily available on the internet. Although single action footswitches are available and can be programmed for multiple commands, a triple action USB footswitch is not that much more expensive and allows rounds to be started, the 'go' command and 'stand', or any other combination of commands, to be operated by different switches.
The footswitches come with a driver on CD. You may need to install a tool such as 'WinZip' to unpack the driver first.
Rather than needing to set up the footswitch in the software, these footswitches work by activating the keyboard shortcuts in each application. Currently these shortcuts differ between applications, but there are quite a few shortcuts available and you can programme your own shortcuts for each footswitch (such as bob and single) using the driver interface.