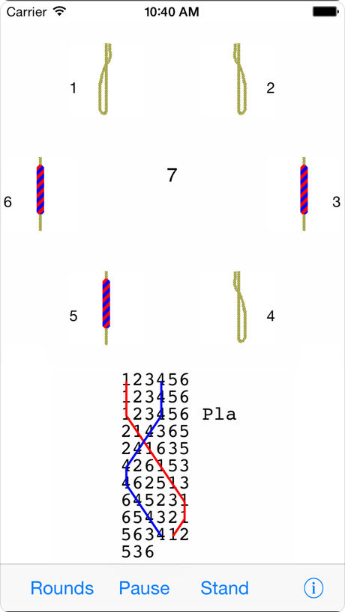 Mobel
Mobel, a ringing simulator for the Apple iPhone, iPod Touch and iPad, is available from Apple's App Store. If you choose the tower bells option, Mobel displays pictures of sallies and tail ends, uses tower bell sound, and rings at tower bell speed. You can vary the speed of the ringing and ring with handstoke gap or cartwheeling. You can have Mobel wait for you if you hesitate while ringing a bell – or it can carry on in perfect rhythm. Optionally, Mobel will give you marks out of 10 for your striking.
The latest version of Mobel runs on iOS 8 onwards, although an earlier version of Mobel is available for older iOS versions.
Methodology
Is a simulator that works on Android phones and is free to download. It was launched in 2010 and there have been over 5,000 installs since. In the 'interactive mode' your selected bell appears at the bottom of the screen. To ring the bell, tap the dark blue rectangle. This doesn't do anything until you start to ring – then you will see feedback on your timing, the little bars indicating how early/late you are on each stroke. Of course, you will hear if your timing is out as well.
You can run Android applications on your Windows 10 PC with emulator software such as BlueStacks which is free to download. You can also run Android Applications on a Windows smartphone by a similar process.